Education
Newcastle and Gateshead are home to thousands of students, 43,026 and 10,510 respectively. Northumbria University's 27,000 students makes it the 13th largest university in the country and Newcastle University has 22,000 students placing it 30th. Newcastle College and Gateshead College are two of the biggest FE institutions in the UK.
When you spend five days (or more!) each week at school, it is unsurprisingly an important part of your life. But the versions of these places young people mapped are unlike the images of school which the adults imagine. They include the myths about teachers; the legends of pupils from the past; spots where the smokers hide out; the precious, secret places with the best wifi signal or where you can hang out with friends at lunchtimes; as well as the places you dare not to go for fear of a "milk-shaking"; and the hallowed grass you cannot touch without invoking the head's wrath!
Studentville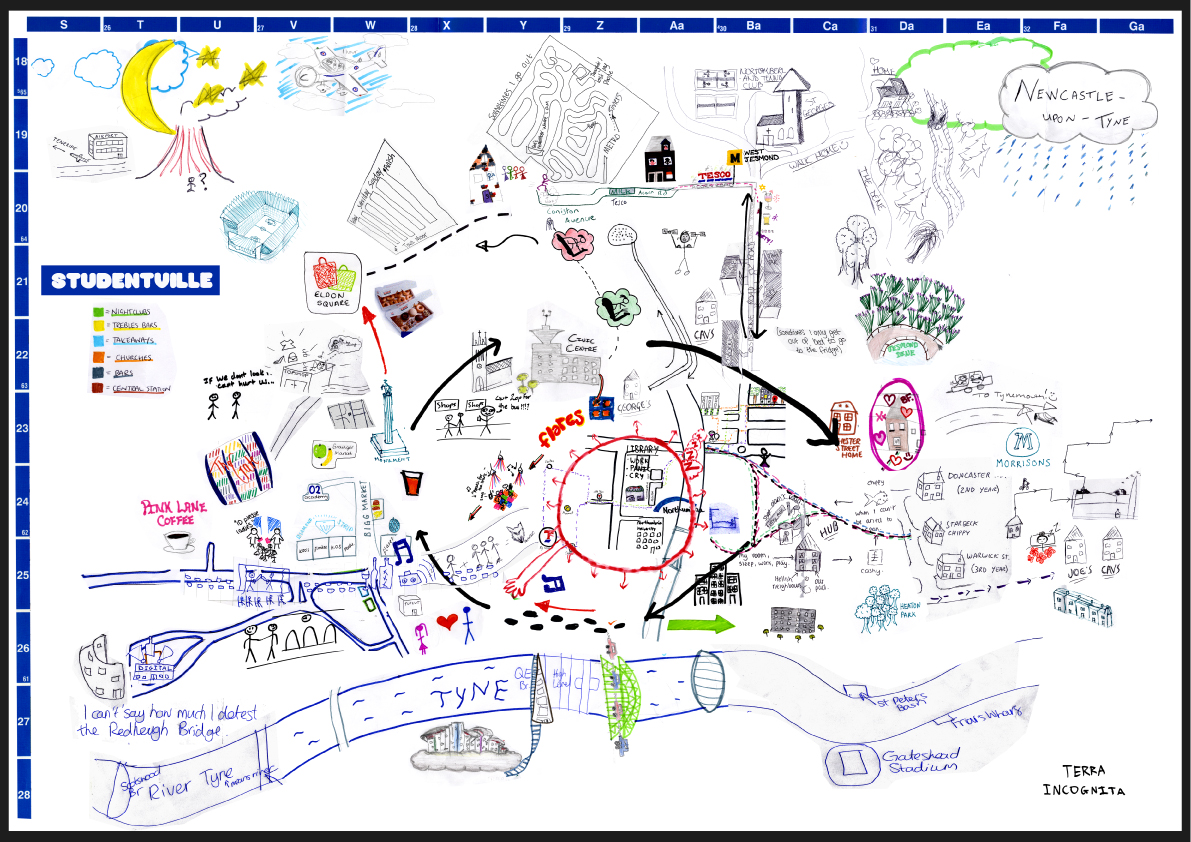 Newcastle is often voted the best student city in the UK and in term time one in seven of the population are students, their money powering much of the party city economy. Students have a distinctive but fragmented map of the city. Clubs, bars, take-aways and flats are recorded in great detail but many other areas are completely off the map. The journey from Heaton to the clubs of the Diamond Strip is a well-trodden route, but sometimes just getting out of bed to get a cuppa seems too tough an expedition. Panic can force a dash to the chippy or Jesmond Tescos. At the centre of the students' universe lies the black hole of the library, its gravitational pull keeping them in orbit and pulling them in.
The Studentville map is a compilation of from individual final years students' maps of their city. They were encouraged to doodle their everyday routine, both now and also over the previous two years in Newcastle. Students' are a much more diverse group than they are often portrayed and the map shows a rich variety of student Newcastles, from piloting a plane to the snug comfort of a flowery duvet.
---