Why Mapping?
Maps represent knowledge and power. Knowing where the best soil is, the quickest way from A to B, and how to navigate dangerous lands has always provided big advantages. This is why the history of maps is so closely linked to ruling elites and the military. For these groups, geographical knowledge represented immense amounts of control over those people, places and treasures included in maps.
Cartographers, as the makers of maps, are, therefore, incredibly powerful. Cartographers begin with a blank page: a map where nothing exists. Because a map can't show everything – it would be too big or too cluttered to be useful – decisions are made about what to include and what to leave out. Mapmakers bring into being content which they or their masters deem significant and, importantly, they decide what to leave out. Entire mountain ranges, populations or even countries can be made invisible at the stroke of a cartographer's pen, or click of their mouse. That is a lot of power to wield.
The aim of this project was to give that power to young people. And in so doing, see what worlds they mapped.
More on mapping
As well as deciding what is included in a map. cartographers also have the power to decide how things are represented. They chose the symbology for different features, the colour of map elements, and the size they appear. They can also decide where on a map they should be placed, and even the shape and size of countries. This is highlighted by examining how mapmakers represent the world.
The world is a globe, it is spherical, and that means it is difficult to make the world flat without warping in some way how it looks (peel an orange in one piece and try laying it flat – it tears and has gaps). When 16th century mapmaker Gerardus Mercator grappled with this problem he chose to ensure the shape of countries remained true. But this meant their size is warped the further north and south you go.
Did you know, Greenland is actually 14 times smaller than Africa? If you are used to Mercator's maps this might be a surprise.
In a society where big is seen as best, powerful and important, maps which get the sizes wrong send a message about the significance of certain places. People have argued this is why the problems of Africa were ignored for so long – it was seen as small and insignificant in comparison to other places.
Mercator, and many mapmakers since, also decided to put Europe at the top and in the middle. This also sends a message about the significant parts of the world. Lists, league tables, and organisational charts usually have the most important, or best performing things at the top. But it is only convention that north is at the top of the map, because north isn't 'up' it is a direction perpendicular to the Earth's surface. In Australia, for example, you can get maps with have south at the top.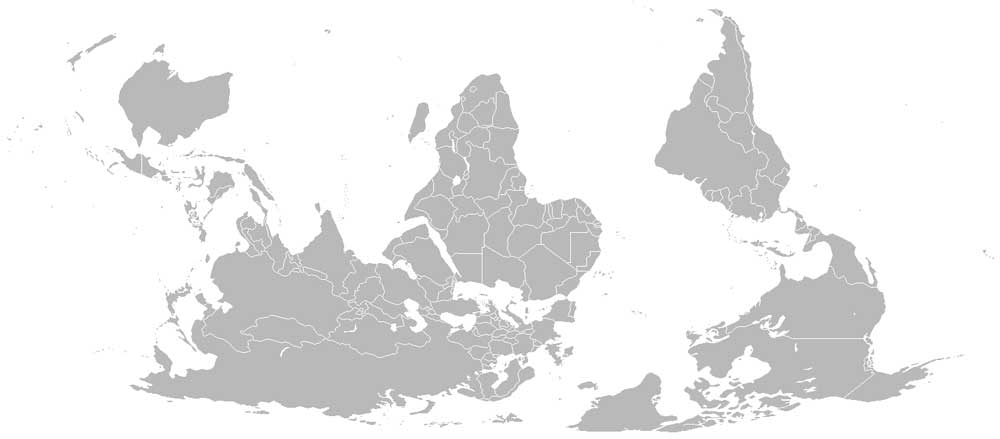 The same decisions about size, representation and position have to be made when designing maps of any area, and if you unpick these decisions it can tell you about the people who made them, and the audiences they were made for. Mercator designed his map for navigation at sea, so ensuring the lines between countries were accurate was important. The Gall-Peters map was designed to show the world in a more equal way, so its authors made the areas more accurate.
---